16
Innova unveils its all-in-one solution for intuitively guided vehicle diagnostics. A touch-screen tablet allows to quickly detect any malfunctions, while built-in RepairSolutions2 knowledge base provides a fast and reliable fix.What is Innova® 7111 Smart Diagnostic System
Innova Electronics Corporation is a leading supplier of test equipment and diagnostic reporting for the automotive aftermarket with headquarters in Irvine, California. Innova recently introduced an Innova® 7111 Smart Diagnostic System (SDS). SDS is essentially an all-in-one solution that includes a diagnostic tablet and the RepairSolutions2 knowledge base delivering the complete diagnostic system in a single form factor.
Innova Smart Diagnostic System application
SDS helps technicians, advanced automotive enthusiasts and fleet owners to efficiently find and fix various vehicle malfunctions. By utilizing this guided diagnostic system, users can easily obtain detailed information by category, including vehicle codes and severity, calibration, emissions system status, adaptations, relearning, and initialization.SDS: how it works
The 7111 Smart Diagnostic System features a touch-screen user interface, that allows technicians to detect and fix issues on their customer's vehicles quickly and efficiently.
Its advanced features include the ability to conduct bi-directional system testing and diagnostic routines, OEM enhanced level diagnostics, trip cycle and service reset.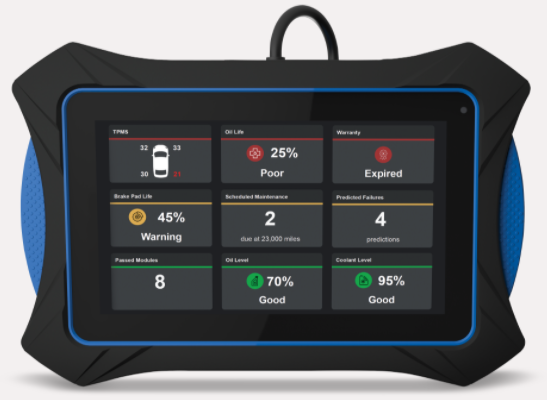 The tablet also includes options allowing a complete Network Scan with insightful diagnostic results to monitor the vehicle modules status. For instance, remote keyless entry, power door locks, heating, ventilation, and air conditioning operation.
Last but definitely not least: the SDS includes direct, built-in premium access to dedicated Innova's RepairSolutions2 knowledgebase, featuring more than 60 million fixes verified for accuracy by certified master technicians.
Stay updated on the latest telematics news. Subscribe to our Facebook and Linkedin communities.
Сообщение Vehicle diagnostics gone intuitive and quick with Innova OBD2 tablet появились сначала на Navixy Talks.